Happy Friday! Today's featured quilter is Sylvia from Flying Parrot Quilts! Sylvia has some beautiful quilts and great tips to share today – I hope you enjoy getting to know her better –
1. When did you begin quilting?
I made my first quilt in 2007. I made pretty traditional quilts for a while, until the modern quilting movement popped up on my radar a few years ago (I'm late to the party!). I feel like I've really hit my stride since discovering this style, and have started writing my own patterns.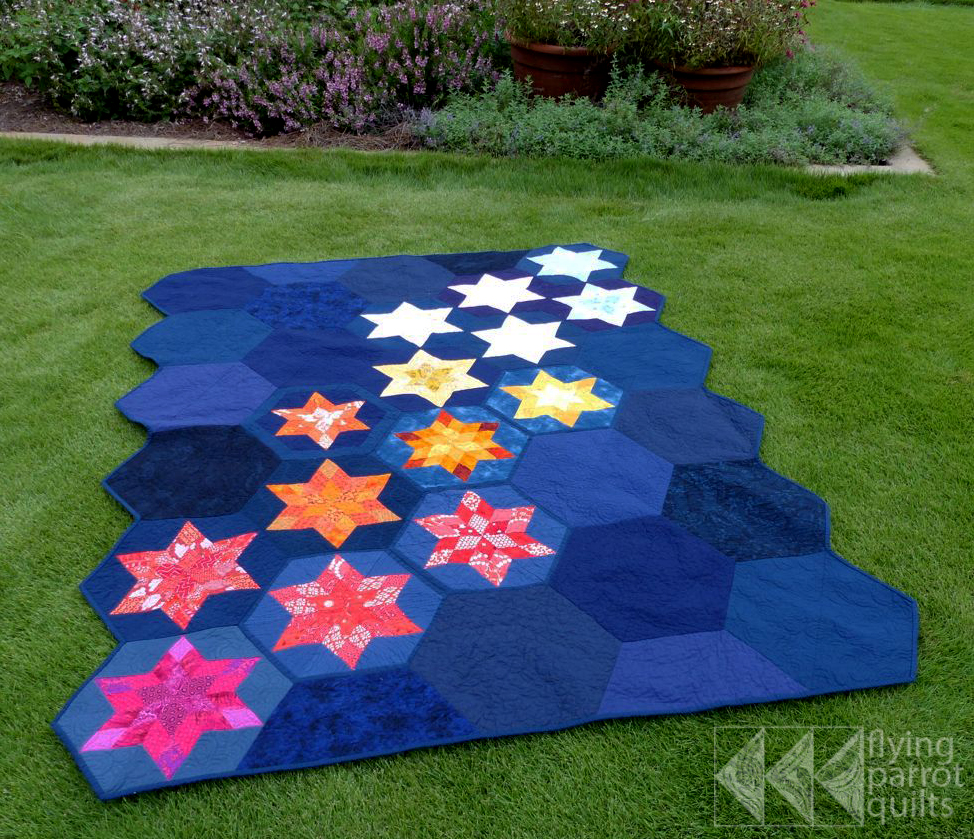 I've always been into crafts of all sorts, but I feel that quilting really allows me a creative freedom that I didn't find with the others. I did a lot of rubber stamping before coming to quilting–I didn't realize it when I made the switch, but I think I was frustrated with the creative limitations of that particular craft. With quilting, I can come up with my own completely original designs, and all I need is the right skills to make them a reality. I particularly love the interplay between the design of the top and the design of the quilting–there are multiple layers of creativity!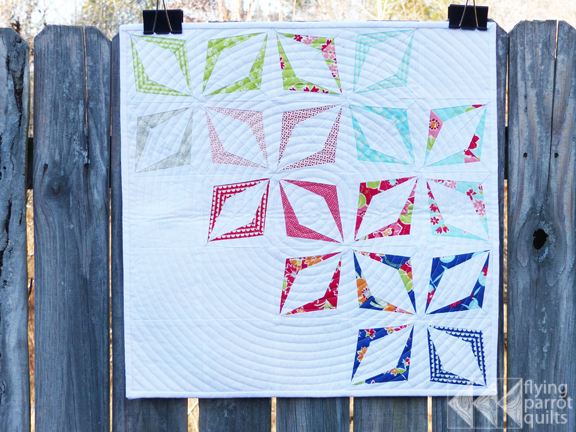 3. What is your favorite quilting tip?
Please don't be afraid! I hear so many quilters say things like "I'm scared to try free motion quilting!" or "Someday I will make a quilt like this, when I've conquered my fear of curves!" and it always makes me a little sad, because trying new things is how we grow as quilters and artists. Of course it won't be perfect your first time, but I promise they're all just skills that improve with practice. The more techniques you know, the more likely it is that you will have the tools you need when you dream up a super-amazing quilt!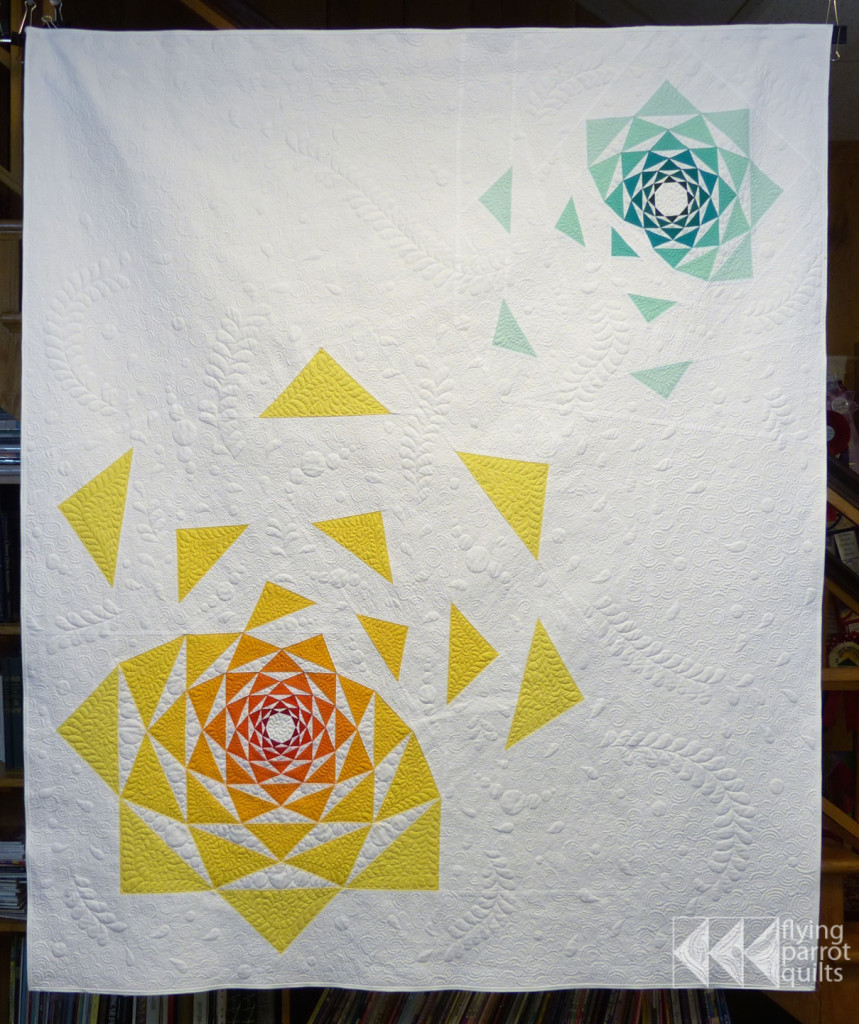 4. What was your inspiration for your Quilt Festival quilt?
I entered two in this spring's Festival; the first (above) was
"The Disintegration of the Persistence of Artichokes"
(the title is a play on a famous Dalí painting). That quilt was made in response to a challenge by my local traditional quilt guild to make a quilt using an eight-pointed star design. I designed the initial block (which was quite a challenge to figure out how to piece!) for a mini quilt; the shape reminded me of an artichoke. Several friends told me I needed to make a bigger quilt featuring the block, so two blocks disintegrating was the result.
My second Festival quilt was (below)
"Celestial Orbs."
The starting point for that design was the traditional block Robbing Peter to Pay Paul. I came up with it for a block design challenge, but I liked it so much I never submitted it and instead wrote my own pattern for it. I really love traditional quilts, but they're just not my style to make anymore, so I've been trying to come up with modern versions of all the traditional quilts on my bucket list.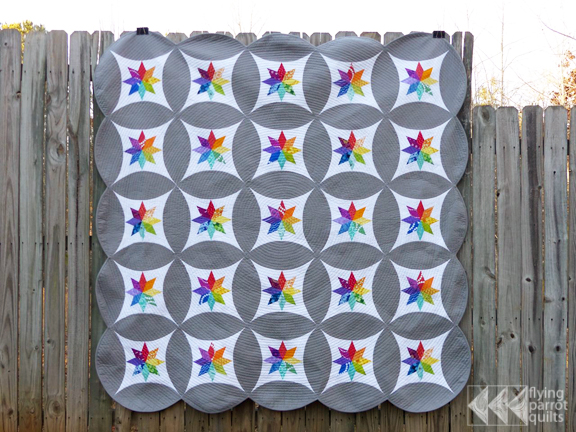 5. Do you sew other things?
I dabble–bags and wallets and the occasional garment, but mostly it's quilting. I do sew a fair number of men's shirts–my husband likes to wear loud shirts, and ever since I made him one out of penguin fabric when we were first dating, I've been making them for him whenever he sees fabric he really likes. We have an agreement in which I exaggerate the yardage needed in exchange for the labor involved. He has Tula Pink and Lizzy House shirts, so he'd fit right in at a quilt show!
6. Anything else you would like us to know about you?
I have an advanced degree in marine science, so one of the things I really like doing is incorporating scientific concepts into my quilts. A good example of this is my quilt Main Sequence, (at the top of the post) which I entered into the Fall 2014 Festival and which is a representation of the astronomical Hertzsprung-Russell diagram. I have a stack of other scientifically inspired designs just waiting to be made!
—–
Thanks for sharing Sylvia! I echo your tip – being afraid to try is letting your perfectionist take over – just keep trying!
Have a great weekend & Happy Quilting –
Amy