A few things have come through my email, and I wanted to share!
Last winter a group of quilters raised and donated over $5000 to World Vision.  We are gathering once again to raise funds for Japan via Mercy Corps – check out Modern Relief for details and grab a button for your blog!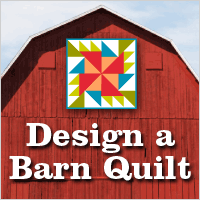 Accuquilt is hosting a contest – design a barn quilt and you could win!  Just click on the graphic for details!
A reminder the Mug Rug Madness is under way over at Erin's!
And registration is open over at The Sewing Summit!  We are really excited to have this fabulous weekend in the works –  get more info, and learn how to register to reserve your conference ticket!
—–
Finally…
My sweet and adorable children have shared a miserable spring cold…
so I'm hanging out on the couch with them, doing my best to feel better!
I hope you are having a great day~
Amy
ETA:  Natalie at Beyond the Reef, has posted an interview and giveaway of my book!  Go visit!