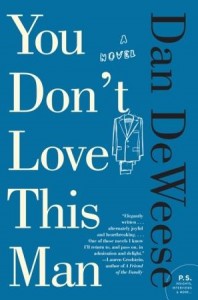 You Don't Love This Man
by Dan DeWeese, is a thought provoking, carefully crafted story.  I really enjoyed reading it!
From the back cover :
On the morning of his daughter Miranda's wedding, Paul learns that the bank he manages has been robbed—apparently by the same man who robbed it twenty-five years before. As if that weren't enough, Miranda, who is set to marry Paul's former best friend—a man twice her age—seems to have gone missing.
Struggling to reconcile his little girl with the grown woman he's about to walk down the aisle (if he can find her), to accept his onetime peer as his future son-in-law, and to comprehend the strange coincidence of being robbed by the same man two decades apart, Paul takes stock of everything leading up to this moment—as he attempts to navigate the day's many surprises while questioning the motives and choices of those around him.
Paul is a suit.  Paul is quiet, reserved, and seems to not really live.   Instead life is happening all around him, without him.  The book chronicles his day as he looks for Miranda, and goes through the investigation process at the bank.  Simultaneously, the author gives you glimpses into his past, how friendships changed his life course, and decisions made, how he came to be divorced and on the outskirts of his relationships.
The narrative is well written and concise.  There is a bit of mystery that kept me drawn in to the story, and it continues to the very last page.  I enjoyed this book immensely and recommend it to any of you looking for a thoughtful book to read!
I was given a complimentary copy for my review by TLC Book Tours, to learn more about the author and what others have to say about this book visit TLC for links to more of the stops on the tour.  To purchase, You Don't Love This Man
visit Amazon.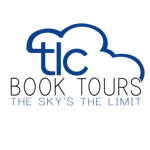 What have you read lately?
Amy