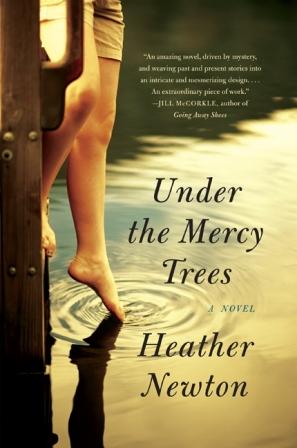 Hi friends – I have a beautifully written novel to share with you today!  Under the Mercy Trees
by Heather Newton – my review copy is courtesy of TLC Book Tours.
From the publisher :
Thirty years ago, Martin Owenby came to New York City with dreams of becoming a writer. Now his existence revolves around cheap Scotch and weekend flings with equally damaged men. When he learns that his older brother, Leon, has gone missing, he must return to the Owenby farm in Solace Fork, North Carolina, to assist in the search. But that means facing a past filled with regrets, the family that never understood him, the girl whose heart he broke, and the best friend who has faithfully kept the home fires burning. As the mystery surrounding Leon's disappearance deepens, so too does the weight of decades-long unresolved differences and unspoken feelings—forcing Martin to deal with the hardest lessons about home, duty, and love.
I really enjoyed this book – it's evenly paced and pulled me in from the very beginning.  The author changes the perspective with each chapter when the main characters take turns sharing how they remember the scene, and will flashback to the memory.  I loved the way the story unfolded, but kept me in suspense until the very end.
While the family is pulled together to search for the missing brother, there is so much more to be learned about the family.  Each of the characters has secrets from the past that has shaped them and caused hurt and bitterness – the lesson learned, of course, is learning to forgive.  The Owenby family is intriguing and the story very well written – I recommend it to anyone that loves a great read!
I don't have a copy to giveaway, but you may purchase your own here:
Under the Mercy Trees
Enjoy!
Amy