The Winners are # 5 & 20 Linda and Leslie – Congratulations ladies!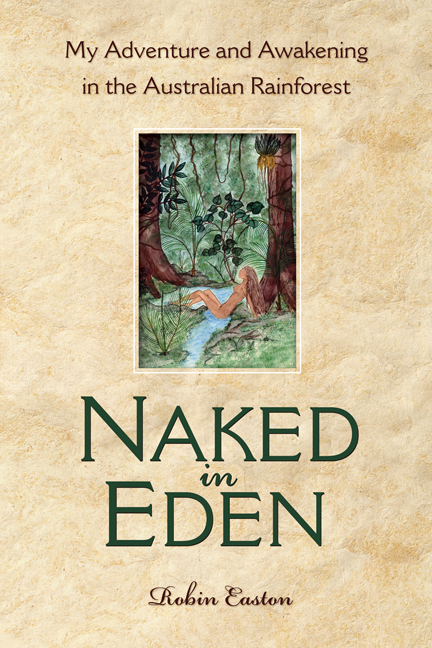 In the deepest recesses of the forest, far from everything that was modern and familiar, Robin and her husband, Ian, pitched camp.  As Robin began to explore her new environment, she searched the ground for the things she feared: snakes, spiders, leeches, scorpions, and ticks. If she wanted to stay alive, she had to be as acutely aware as all the rest of life in the forest.  She had re-entered the food chain and no longer could bungle along unconsciously like she'd done all her life.
Once Robin recognized her own need to survive, she realized that in the web of life no one can afford the luxury of unconsciousness. She began to confront her fear of other species and started to thrive in the rainforest.  Wallabies, birds, and bandicoots befriended her, and her bare feet and sun-kissed body shared paths with foot-long centipedes, leeches, and deadly snakes.  By stripping off all the baggage of Western insulated life, and plunging naked into the wild in every sense, Robin found healing. In doing so, she recaptured her birthright–and ours–and reclaimed her place as a part of the collective expression of life. Her moving journey will help others reestablish their forgotten connection to the natural world, allowing them to survive and then thrive in relationship with the earth. In a time when our own wild voices are becoming as extinct as our wild brethren, Robin shows us that when we remember our own wildness we can value all wilderness.
From TLC Book Tours – thanks Lisa!
Robin's story is remarkable.  I cannot imagine having the desire to go to the Australian rain forest, and embracing it the way that she describes.  Taking in every tiny detail of the forest around her,  and bringing it to life with her words for the reader.
The book was enchanting to read and I had to know how things ended!  Even now I would love to know more about Robin's life after living in seclusion.  I did have a hard time relating to Robin at times, in that 2 days in  a tent is plenty for me, and I believe that God created the beautiful scenery that we live in, not so much Mother Earth as she does.  All in all, it was an intriguing read and great for the adventure seeker!
You can get in touch with Robin via her blog, or website, and purchase the book on Amazon
.
To win one of two copies of the book – leave a comment, let me know what you think.
Amy