Winner: Darlene at SewCalGal! Congratulations :)
I'm happy to have read a book! Really it shouldn't be such a monumental occasion, but life has been so busy – I haven't let myself get caught up in books as much lately.
Get Lucky

I set up this review months ago with Lisa at TLC Book Tours, here's a little from the back cover –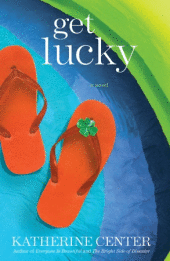 Sarah Harper isn't sure if the stupid decisions she sometimes makes are good choices in disguise—or if they're really just stupid. But either way, after forwarding an inappropriate email to her entire company, she suddenly finds herself out of a job.
So she goes home to Houston—and her sister, Mackie—for Thanksgiving. But before Sarah can share her troubles with her sister, she learns that Mackie has some woes of her own: After years of trying, Mackie's given up on having a baby—and plans to sell on eBay the entire nursery she's set up. Which gives Sarah a brilliant idea—an idea that could fix everyone's problems. An idea that gives Sarah the chance to take care of her big sister for once—instead of the other way around.
But nothing worthwhile is ever easy. After a decade away, Sarah is forced to confront one ghost from her past after another: the father she's lost touch with, the memories of her mother, the sweet guy she dumped horribly in high school. Soon everything that matters is on the line—and Sarah can only hope that by changing her life she has changed her luck, too.
The cover made me think that the book would be all sunshine and easy going, but not so! The author, Katherine Center, engaged me from the first pages, with characters I could relate to, struggles with family relationships, and making the most of the present situation. I found myself at the end of the book wanting to know more about Sarah and how things had worked out for her and Mackie.
Did Sarah "get lucky"? I guess you will have to read and find out!
I really enjoyed this book and would recommend it too, in fact I'm headed to Amazon to look into Katherine's
other books! If you would like to win a copy of Get Lucky, leave a comment – I'll select a winner over the next weekend.
Happy Reading ~
Amy
—————————————————
Next steps:
Subscribe to Amy's Creative Side
Shop with Amy
Follow Me on Twitter
Become a fan of Amy's Creative Side on Facebook
Email me