Assuming you've been watching and waiting for the perfect opportunity to purchase a Go! Cutter, or the new Baby Go! there's a fantastic sale happening at Accuquilt now!
Also, if you haven't signed up for their newsletter – you should!  They are offering 22 free patterns, which you can use with the Go! products or your rotary cutter.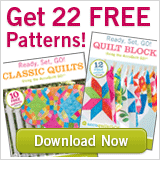 I need to catch up on email today.
What are you up to?
— Amy
PS – If you want to see my thoughts on the Go! Cutter check out this post, and this post.