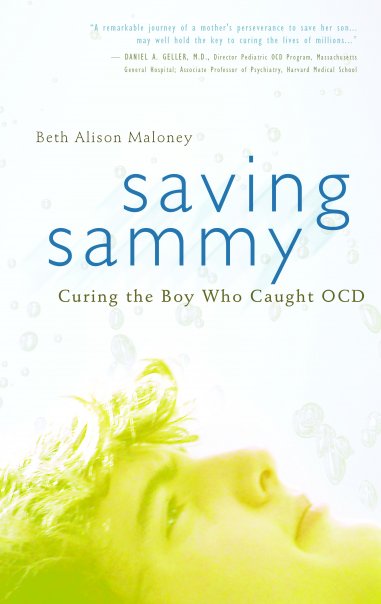 I'm excited to have a chance to review Saving Sammy, by Beth Maloney for TLC Book Tours. While the content is serious, the book is well written and a real page turner!
From TLC Book Tours —

"Sammy's mother, Beth, already coping with the overwhelming responsibility of raising three sons alone, watched helplessly as her middle child descended into madness. Sammy was soon diagnosed with obsessive-compulsive disorder (OCD) and later with Tourette syndrome. Unwilling to accept the doctors' prognoses for lifelong mental illness and repeated hospitalizations, Beth fought to uncover what was causing this decline. Racing against time as Sammy slipped further from reality, Beth's quest took her to the center of the medical community's raging debate about whether mental illness can be caused by infection. With the battle lines firmly drawn, Beth searched until she found two cutting-edge doctors who answered that question with a definitive yes. Together, they cured Sammy. Five years later, he remains symptom free."
I read this book over a 24 hour period – while cooking dinner, waiting for the girls to come out of the school, and while the World Series and Monday Night Football were on! Reading all the struggles that Beth encountered, and the accomplishments, were very intriguing. I found myself, having to know how Sammy got better.
Sammy had some extreme and crippling behaviors, the book begins with a letter to a doctor cataloging these behaviors, in order to prepare the doctor. Simple tasks like getting in the car or walking up the stairs inside the family home would take Sammy hours to manage. Life changing for the family, as Sammy had previously been a happy, healthy, math wizard!
I've never encountered anything quite as difficult with my kids, lots of sleepless nights like most moms, but not sleepless months. Beth kept searching for the doctors that had the answers she needed. She fought for her boy she knew was trapped inside. Like any mom would. In the midst of the struggle, she made a promise to tell others. To help raise awareness, not only of Sammy's situation but also to encourage moms to ask the tough questions and challenge authority when it comes to the health and wellness of your child.
This is video from the Today Show in September —
It's pretty impressive to see him now! I want to pass my copy on, leave a comment and I will pick a winner next Monday.
I hope you are well and blessed today ~
Amy
ETA: The winner is AmyR! Congratulations Amy – I've emailed you already, please send me your mailing address.
---
Next steps:
Subscribe to parkcitygirl
Shop with Amy
Email me